How to Register GODIAG V600-BM
---
Matched product: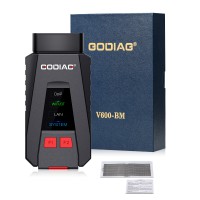 Item No. SP362
Free Shipping
Highlights to get GODIAG V600-BM:
1. Can work with Original BMW Software, have same diagnostic functions with ICOM A2.
2. Support Latest Protocol like DOIP K-Line CAN-FD, can work for latest BMW Car Models.
3. Support WIFI & Lan Cable Connection,make communication more easier.
4. Support Vehicle Intelligent Diagnosis,ECU Coding, Programming and Special functions.
How to register Godiag V600?
1. Please download Godiag V600 Software
here
.
2. There is a password paper inside the package. After you install the software, please run it and register the device.
3. Active the device with the password.
4. If you computer already has ISTA-D or ISTA-P software, you can directly use and no need to install any driver. If you do not have the software, you can also
BMW Software
buy from us.
Godiag V600-BM first time setup guide
1. Locate the registration slip included in the packaging
- Open carefully to reveal the device serial number and product key
- These are required for first time setup your new V600-BM inteface
2. Download Godiag V600-BM firmware updater (add download link here)
3. Extract the contents of the zip file to a folder
3. Run the Godiag firmware updater by double clicking the file "STTech.AnyVCI.Updater.exe"
4. For first time users, register the device by entering your email, password of your choice, product serial number and product key in the required fields
- If you have already registered, you can login with your email and password
5. On the main page you can select various options such as firmware update, license update and advanced settings
6. Please follow our Godiag V600-BM online guides to update device firmware or update license
7. The Godiag V600-BM is now ready to use and fully compatible with BMW standard tools